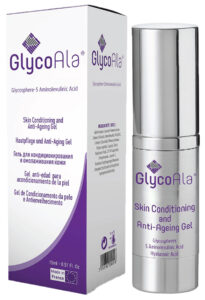 Glycoala gel is a novel skin conditioning and anti-ageing gel, uniquely formulated using the cutting-edge Glycospheres -5 ala and hyaluronic acid technology.
This groundbreaking cosmetic gel provides remarkable skin rejuvenation effects, improves skin tone, diminishes visible signs of sun damage and ageing, reduces the size of the pores, decreases skin oiliness, indicated to skin prone to acne, enhances hydration, improves moisture retention removes blackheads.
Glycoala HR represents a groundbreaking and innovative technology for hair removal, leveraging the unique application of Glycospheres (nanoparticle technology) containing 5-Aminolevulinic Acid, Hyluronic Acid, and Capislow. It stands as the sole cosmetic Hair Removal photodynamic gel in the world to incorporate such advanced delivery technology, ideal for hair removal of any type of color (black, blond, red, white, fluffy) in only 3 sessions and only in 2 months period.   
Glycoala HR represents a selective and cost-effective method for hair removal, delivering results without the drawbacks of excessive time consumption, pain, and skin damage.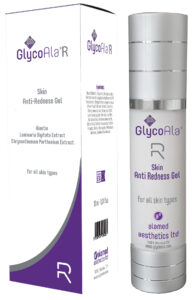 Glycoala R stands out as the sole cosmetic phototherapy gel worldwide, incorporating a unique and synergistic blend of Cytokinin, Chrysanthemum Parthenium Extract, and Laminaria Digitata Extract, synergistically combined with the application of RED LIGHT.
Glycoala R supports, enhances, and soothes delicate skins, diminishes skin redness, achieves skin tone balance, provides intensive skin hydration, and restores the skin's innate radiance. Furthermore, Glycoala R bestows protective effects against UV damage, owing to its antibacterial and anti-ageing properties.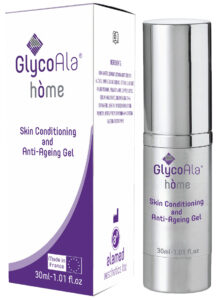 Glycoala hòme represents a groundbreaking home-use photodynamic therapy gel, designed for facial, neck, décolleté, and hand applications. It is based on the unique utilization of Glycospheres containing 5-Aminolevulinic Acid and Hyaluronic Acid.
Through Glycoala hòme photodynamic therapy (PDT), notable histological and clinical enhancements in the skin are achieved. These improvements include an increase in collagen levels, a smoother skin texture, a reduction in wrinkles, amelioration of hypertrophic scars with diminished erythema, decreased volume, enhanced flexibility, reduced skin pore size, and a decrease in oiliness in the skin. Furthermore, this therapy leads to remarkable improvements in acne-prone skin.
The utilization of Glycoala hòme-PDT obviates the necessity for prolonged, frequent, and time-consuming daily home skin care treatments.

The Glycoala Oxygen Scrub is a gel exfoliator that operates through mechanical means, eliciting skin rejuvenation by supplying supplemental oxygen and vitamins, thereby enhancing the skin's capacity to restore its physiological functions.
This gel exfoliator facilitates skin cleansing, soothing, and hydration processes. The gel's gentle action facilitates the extraction of impurities, while its seeds effectively eliminate dead skin cells from the skin's surface, thereby optimizing the efficacy of any subsequent product applications.
Glycoala Oxygen Gel is an invigorating and reparative dermal formulation meticulously crafted to preserve skin hydration, promoting a robust, vibrant, and lustrous complexion. This cutting-edge gel actively fosters the stimulation of smoother, firmer skin, while concurrently exhibiting defenses against impending signs of ageing.
Upon application, the Glycoala Oxygen Gel initiates a remarkable transformative process, inducing enhanced skin tautness as it gradually dries. The gel's exquisite array of nourishing nutrients efficiently replenishes the skin. This groundbreaking gel is suitable for all skin types, even the most sensitive and delicate. The multifaceted effects of Glycoala Oxygen Gel encompass a sustained and profound hydration and a robust protection mechanism against premature ageing manifestations. 
Glycoala Fos: LED Face–Neck & Hand Mask is an advanced cosmetic device harnessing the power of High-Tech LED technology (RED+IR, BLUE+IR & RED+BLUE+IR LIGHT) to facilitate photodynamic therapy, deep cellular activation and skin metabolism. This mask operates by converting absorbed light energy into intracellular energy, thereby relaxing and strengthening micro-blood vessels, instigating photochemical and enzymatic reactions, and elevating catalase and superoxide dismutase (SOD) activity within cells.
Through the stimulation of basic fibroblast growth factor (BFGF) and epidermal growth factor (EGF) secretion, this mask effectively revitalizes the skin, promoting collagen rearrangement and inhibiting melanin formation. As a result, it accelerates cell growth, enhances blood circulation, and fosters collagen production, leading to improved skin elasticity.
Glycoala Fos far-reaching benefits encompass skin repair for ageing skin, acne-prone skin, oily skin, acne and skin blemishes.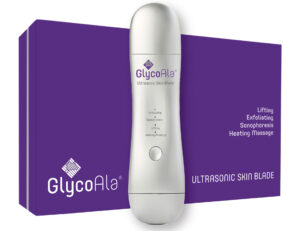 Glycoala Ultrasonic Skin Blade
Glycoala Ultrasonic Skin Blade is a device designed to exfoliate dead epithelial cells and purify the skin through multifunctional capabilities, all elegantly housed in a compact and stylish form factor. This state-of-the-art tool caters to all skin types and induces substantial improvements, resulting in a smoother, younger, healthier, and more even skin appearance.The device's quality is evident in its high-grade metal scrubber plate, composed of specially selected materials such as special PC, stainless steel, and zamak 3, ensuring a gentle and painless experience on the skin.
The intelligently engineered metal plate and heating massage head in relation to the very high vibration frequency of Glycoala Ultrasonic Skin Blade are expertly designed to seamlessly conform to the unique contours of any skin type, to drainage the lymph, lift and tight the skin.
The Glycoala UV flashlight stands as an indispensable tool essential for the precise diagnosis of various skin and mucosal tumors assisting healthcare professionals in detecting and evaluating these conditions. Furthermore, the Glycoala UV flashlight showcases its versatility by facilitating the fluorescence red transformation of Glycoala gel. After application and full skin absorption of the gel, the Glycoala UV flashlight illuminates the treated area, showcasing the fluorescence red transformation. This unique feature serves as an essential indicator of the gel's efficacy, enabling medical practitioners to assess its proper application.